Tractor & Excavator Services
Brush Hogging, Field & Pasture Mowing, Road & Trail Maintenance, Pond Maintenance, Discing, Grapple & Dirt Work, Fire Breaks, and Excavating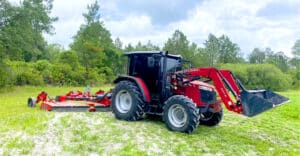 Bush Hogging, Tractor & Land Services
Property Maintenance Services
Our services are pretty simple, we cut vegetation and move things with a tractor. We will cut or clear anything from 1 acre to 50+ acres, from grass, to 3″ saplings. For bigger vegetation we can use a forestry mulcher. 
Insurance is one of the biggest variables separating "the guy next door" with a tractor from companies like Bush Hogging Services. Accidents happen, and being properly insured means your property is not at risk. Be sure whoever does your brush hogging is insured.
The place looks fantastic. Not only are you professional, efficient, and responsive; you go above and beyond what's required. It turned out better than I expected. I'm so pleased I was able to find you.
Basic tractor services such as field mowing including grass, brambles and, saplings under 2″. We can cover about 2 acres per hour if continuously moving forward and not backing down repeatedly to clear brush.
Tractor Services:
Box blading – road maintenance
Bush hog (under 2″)
Brush hog (over 2″)
Field mowing
Dirt moving
Vertical trail & road trimming
Field and road discing
Fire breaks & road maintenance
Landscape raking
Other services in this range include moving brush and dirt piles, dirt road maintenance, and other basic tractor chores.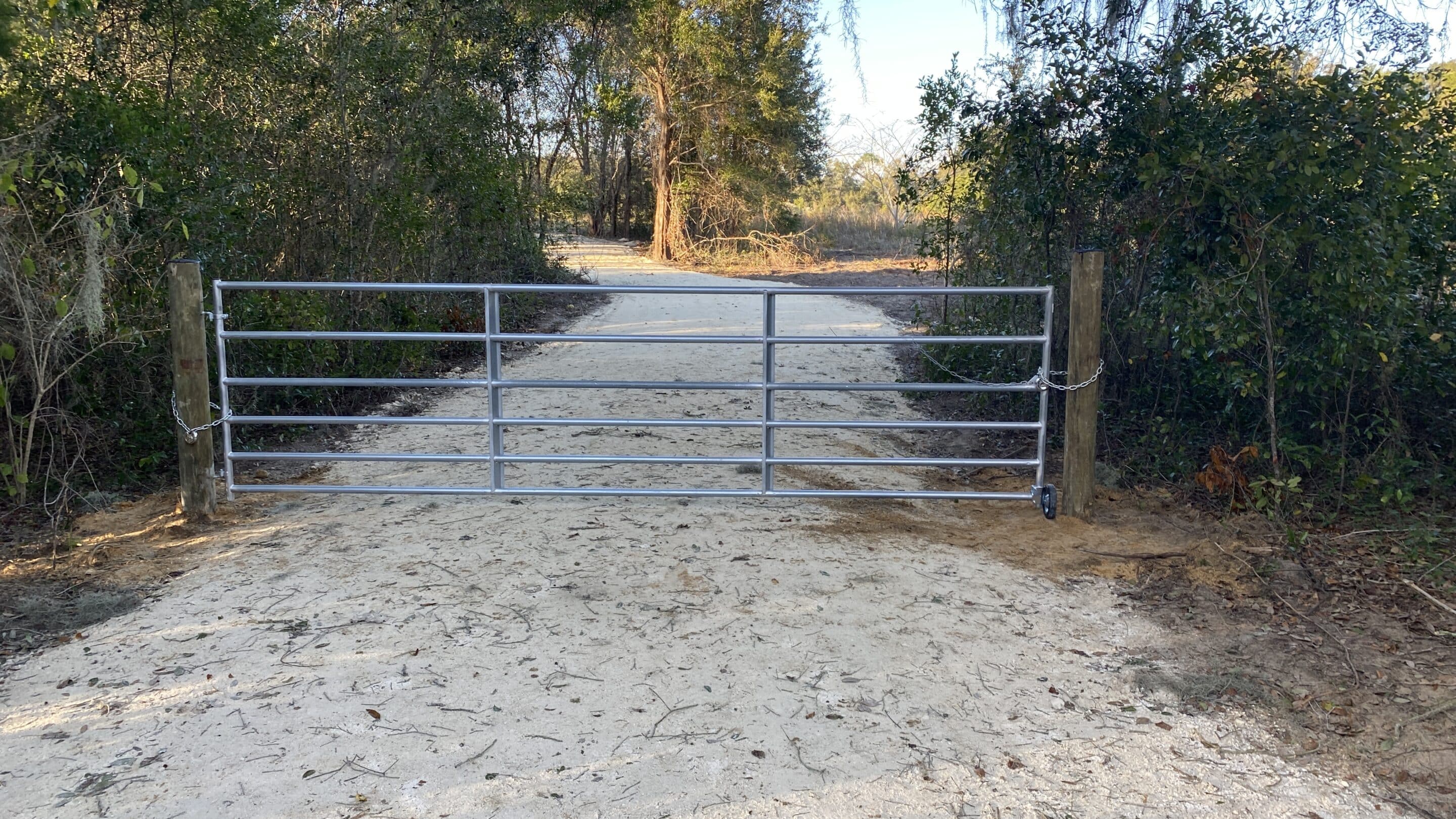 Types of Bush Hogging Services
Cutting grass, bush hogging a field and general tractor work is part of the base service. This generally also includes cutting saplings up to 2″ thick. Bush hog services enable for faster, continuous work with less wear on equipment. Swamp, mud, and hidden obstacles in fields are the variables that can add time and difficulty to an otherwise easy job. It is best to remove all debris when possible.  
813.699.9062
Call or Text (West Central FL)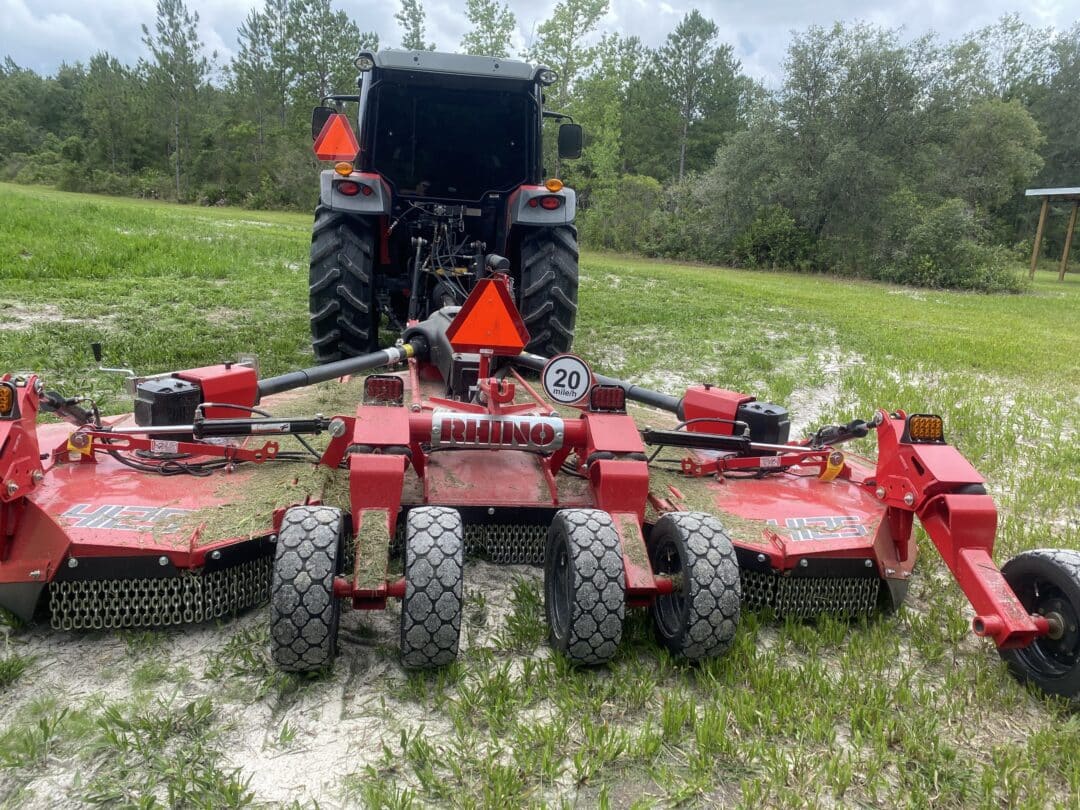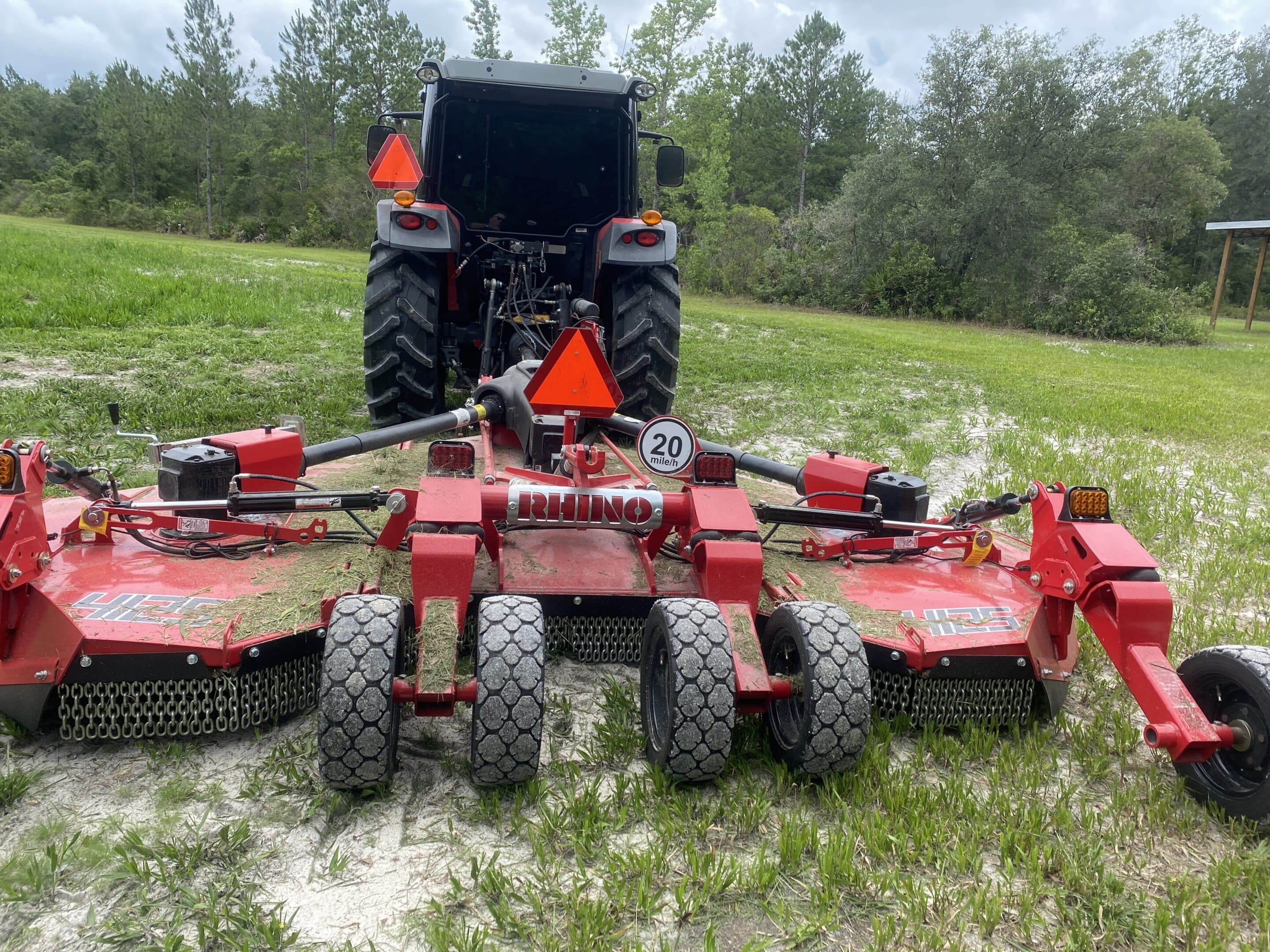 Heavy Duty Brush Cutting and Land Clearing
This is the slowest and most difficult process which involves cutting trees up to 4″ thick near the ground. Our tractor has a specialized tree cutter which facilitates more efficient cutting of bigger vegetation resulting in saved time and money. A forestry mulcher grinds trees and material down to the ground or even below grade using a cylinder on the front of a skid steer machine. Forestry mulching is quite a bit more expensive.
Most bush hogs are rated to cut 2″-3″ saplings where our Baumalight CP572 tree cutter can handle up to up to 4″ trees! There are only a few of these highly capable but expensive brush hogs in Florida which makes Bush Hog Service unique. The push bar on the CP572 bends trees over and the exposed blades cut into the trunk at high speed using tough steel blades. A traditional bush hog has to run over a tree or simply not cut thicker material for fear of bending the skirt and damaging a gearbox. 
We do not clear or cut land which may be considered environmentally protected. This would include swamps, rivers, creeks, and natural ponds on 10 ac or more. Landowners should investigate land clearing restrictions.  
Field, Trail, and Road Trimming
We have added the TB Max2 brush cutter to our lineup in order to provide field, trail and road tree and brush trimming. It can take days to trim the trees and brush along roads. Each year you lose a little more field or road as vegetation works to take over. With this unique cutter we are able to quickly and efficiently trim along these avenues. We can position the cutter in front of the tractor to cut under trees and obstacles.  To cut around ponds the cutter is offset to the side to about four feet so we can clean up pond areas.
Over time producing fields can lose 5-10% of the land, damage can be done to cars and trucks and food plots get smaller and smaller.  When done once a year, it will keep your place look great.  If you live in Bronson, Williston, Chiefland, Cedar Key, Otter Creek, Ocala, Archer, Andrews or Fanning Springs, give us a call. 
Field, Trail, and Road Trimming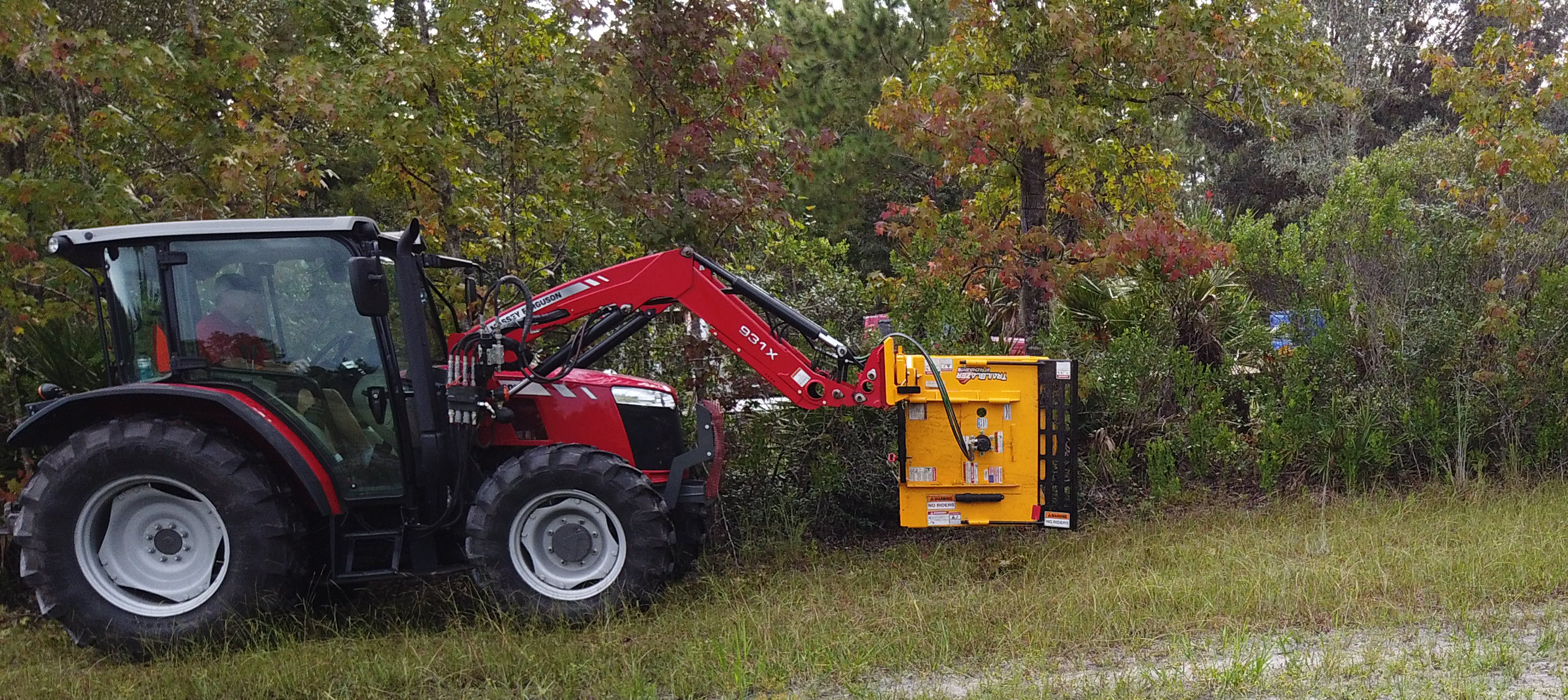 The most basic bush hog service is field mowing. With a rotary cutter field, mowing can be done to keep a property for sale looking good. A well-manicured property is likely to sell much faster than an overgrown bushy lot.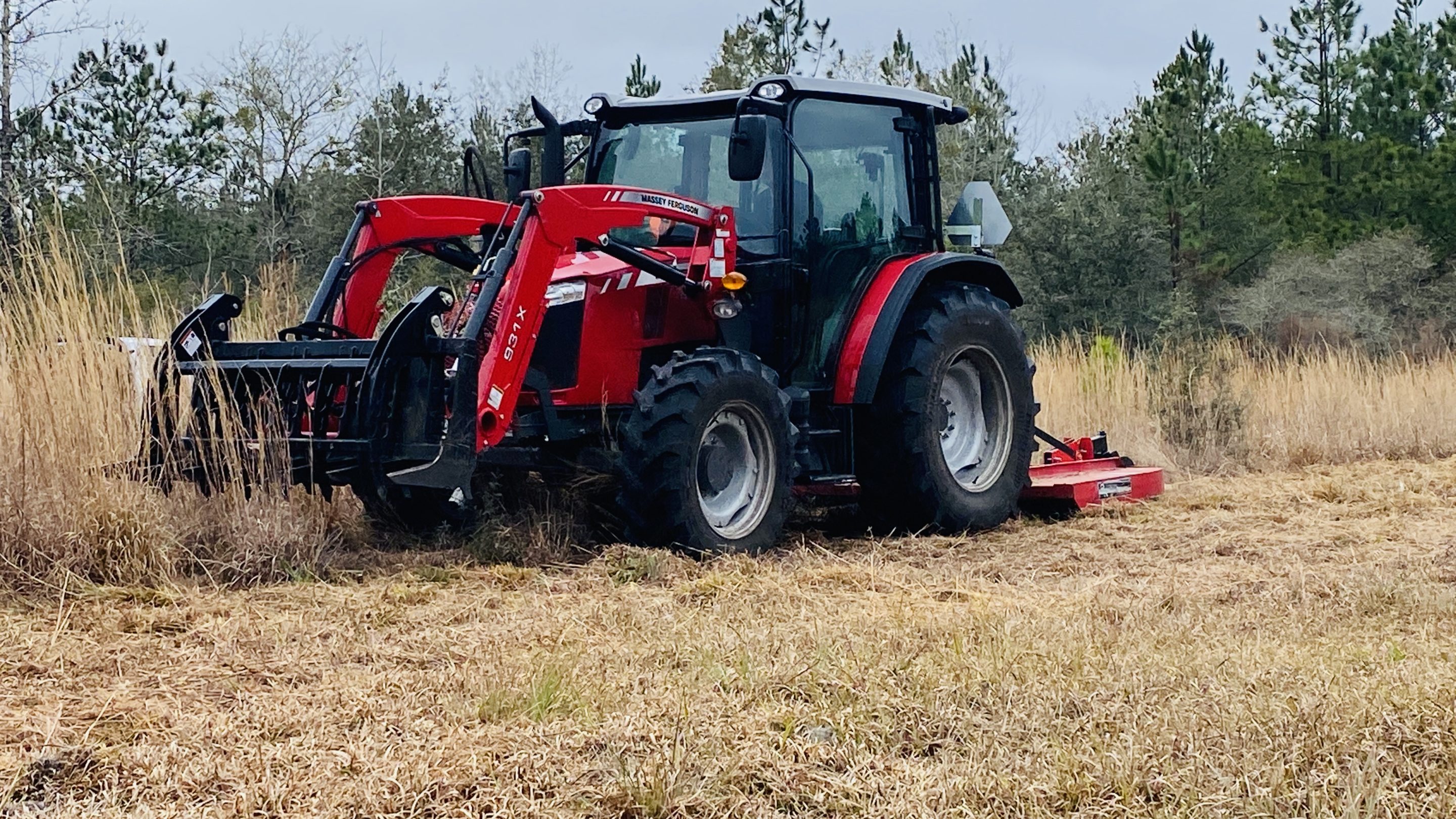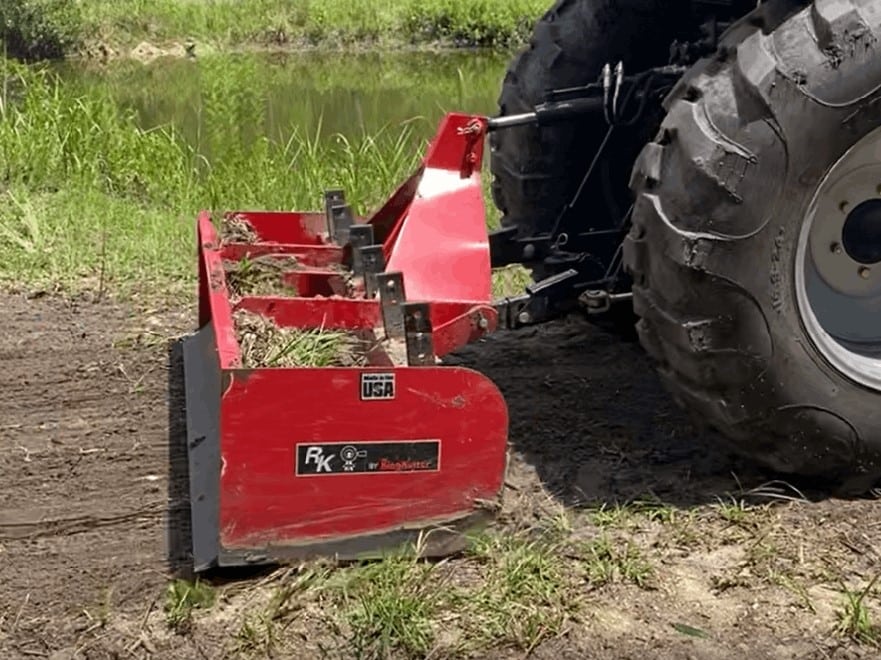 Dirt Road Grading & Maintenance
If your dirt road is getting ripples, low spots or has standing water it is time to do road maintenance. By putting a crown on the road, the road will shed water more efficiently and last longer. Sometimes a dirt road has to be "ripped" to loosen the underlayers before being graded. Our 75 hp Massey Ferguson tractor has the power to run compacted dirt roads so they can be regraded.
Dirt Road Grading & Maintenance