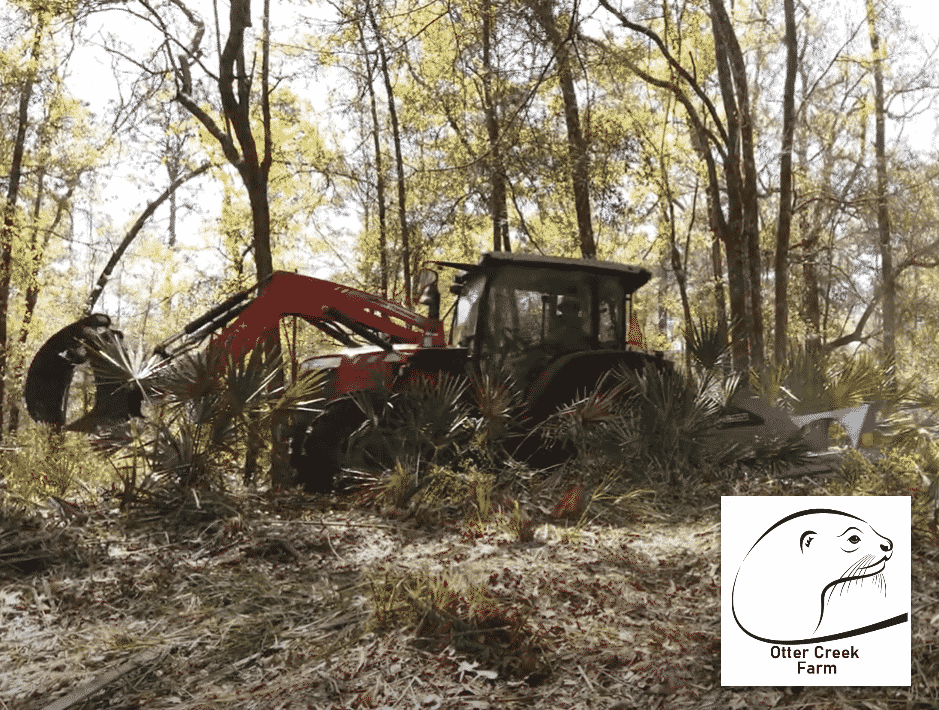 Land Clearing & Tractor Services In Levy County
It is important to understand what land clearing is verse bush hogging. The two are very different in the service delivered and the cost. Often times land clearing is really thought of as removing or cutting vegetation, this is really brush hogging. The term bush hog is actually a trade name from the company Bush Hog which makes implements for tractors, one of them being a rotary cutter for brush cutting. Land clearing is what you would need to build a home or plant a field. 
Land Clearing – Levy County FL
Land clearing entails removing the vegetation above ground and the root system below grade. Land clearing is done for new construction and creating an agricultural field. In Levy County there are fields of palmetto bush with very tough root systems. Palmettos are a challenge to brush hog because the stalks can be quite thick and they are fibrous. Some heavy duty rotary cutters like the Baumalight CP572 can do a good job on them but it is slow work that is hard on the machinery. A forestry mulcher is a great machine if you do not need to go more than 2-3″ below grade. It makes a very nice finished look and can eat of trees. They are great for clearing food plots, cutting in roads or grinding down vegetation before a bulldozer comes in. 
If palmettos are being removed for land clearing it will need to be done with an excavator or a bulldozer. An excavator will pull each plant out by the roots leaving the soil broken up and able to be plowed or dressed. An excavator does a precision job where a bulldozer does a rough, fast and bulk job. 
Which Is Better? Land Clearing or Brush Hogging
If you want to remove vegetation like small trees, bushes and grass, you need bush hogging. If you want to build a home with a septic system and a yard, use an excavator to remove the trees, roots and stumps. If you want a quick and efficient way to clear a lot of land, go with the bulldozer. 
What Does Land Clearing Cost?
There are many variables that go into pricing a land clearing job. In Levy County, FL the price will be less than in Tampa, FL. A tractor doing bush hogging will run $65-$95/hr depending on the difficulty of the job. An excavator will cost an average of $150/hr, forestry mulchers average $150/hr and a large bulldozer will run $250/hr. Most of the time you will not get an hourly rate but a job price. A job price might include hauling fees for road rock, vegetation removal if not being burned onsite and multiple trips for moving equipment around. 
Tracking Equipment
If you own your own vehicles, equipment or assets, and want to track them contact Fleetistics or go online to AnythingGPS.com