What is Retention Pond Maintenance?
The definition of retention pond maintenance may vary depending on whom you are talking to. Some people think of pond maintenance as aquatic maintenance or mosquito control. Other may think of pond construction and spillway maintenance as pond maintenance but these are different than retention pond maintenance. The important part is to define what you are looking for early when seeking someone to resolve retention pond issues. For this blog, retention pond maintenance refers to brush cutting the banks and tops of a retention pond. 
Retention Pond vs. Detention Pond
Detention Pond
A detention pond is more like a depression along a road where water can accumulate in small quantities. They are often dry or have little water. Detention ponds will fill quickly due to their smaller size and drain into the soil or are connected to other detention or retention ponds to handle overflow.
Retention Ponds
Retention ponds can be much larger and retain storm water and water from detention ponds. Retention ponds are part of the larger water management program typically found in urban environments to aid in controlling flooding.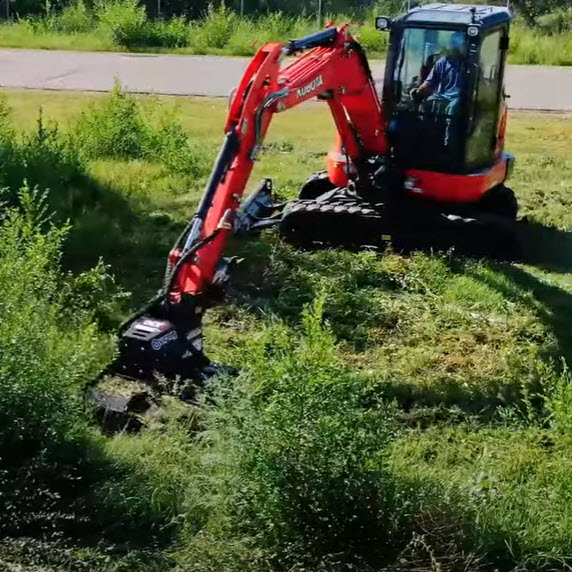 Retention pond maintenance is often done with an excavator like the Kubota KX-040 and a Mongo brush cutter. An excavator provides the reach needed to safely cut vegetation. The sloped sides of retention ponds make them especially hazardous when combined with water. Moring dew can make grass very slippery and more than a few zero-turn mowers have ended up on the water. If a tractor where to slide or flip into the water, it could be fatal. At a minimum it will be very expensive to pull it out. If the engine ingested water, you have a whole new set of problems.
If you need excavator services for road maintenance, site prep, bush hogging, ditch cleaning, excavation, land clearing or retention pond maintenance call or text 813.699.9062. 
If you are looking for retention ponds maintenance near me, Bush Hogging Services operates around Ocala, Williston, Bronson, Chiefland, Otter Creek, Cedar Key, Crystal River, Morriston, Archer, Raleigh or Dunnellon