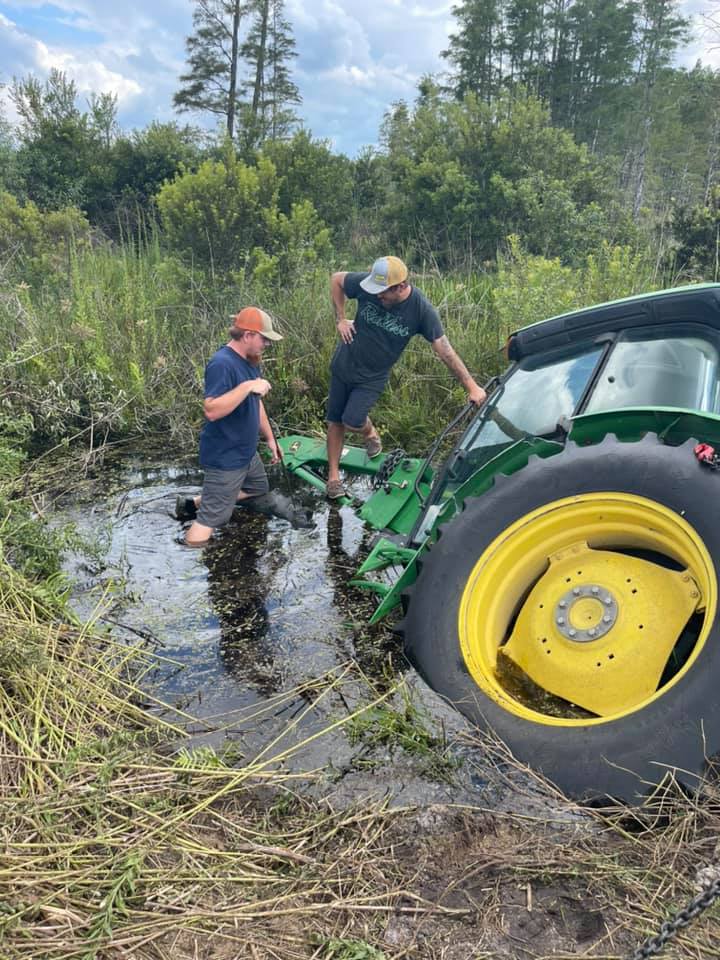 Avoiding A Bush Hog Tractor Accident
I am sure the tractor operator never saw this coming. One respondent on a Facebook group (All Things Tractors) commented she lost two family members in tractor accidents! I personally backed into a hog wallow and found myself with a front tire in the air. As I backed the brush hog into the dense vegetation it covered the hole and I never saw it. Fortunately the hole was not as deep as the one in the picture.
There are many ways to have a bush hog tractor accident. Everyone is bound to have an accident if you do enough of this type of work. The goal is to minimize the damage and remain safe when it happens. One of the easiest ways to avoid a tractor accident is to work slowly. Bush hogging in 3rd gear on an unfamiliar land clearing job is a sure way to end up in big trouble. By going slowly you have time to observe the ground and respond. If you have a tractor accident, the slower you are traveling, the less likely it is to be fatal or costly. 
If you have an accident, you will need to be able to get help. If you are not on your land, you will need to be able to identify your location so people can find you.
A free mobile app like PubSafe is a good tool because it shares your location on a map and alerts other members nearby which may be able to respond faster than emergency services if close by. A mobile app requires cellular coverage which may not always be available. When out of cellular coverage, a CB radio like the Midland 75-822 is a good option provided you have setup a safety plan with your location and have someone to call.
The Importance Of Tractor Insurance
These pictures highlight the importance of having multiple policies for conducting bush hog tractor services. Insurance protects you, your family and the customer. Insurance will likely run about $2,000 per year. As a land owner, if someone gets hurt on your property and has no insurance, you can be sued and liable. Spend the extra money and be sure to hire an insured professional bush hogging service near you.
To be fully insured a minimum of:
General liability
Workers compensation
A policy that covers damage while in route (regular auto will not apply in most cases)
Gap insurance for a new tractor with negative equity
A policy that covers damage while being used for business
Contract a licensed insurance agent for recommended insurance based on your situation.