Steps in Pole Barn Site Preparation
A pole barn is an investment and decades of enjoyment comes from starting with a good site for the pole barn. Choosing location that is dry, sheltered from hurricane force winds in Florida and on stable ground is important. You have to consider areas which may be covered in palmettos or trees. These may be the best area, but not the most obvious.  
Below Grade Pole Barn Site Preparation
Bush hogging the site is generally not good enough for most homestead applications. Trees, roots and grasses will quickly grow back and create maintenance work for you. An excavator or skid-steer with a root grapple will get the below grade vegetation removed. A tractor can do this as well, but it cannot dig of a pine tree tap root or remove palmetto roots efficiently. It may take 3-5 times as long to do the work with a tractor. Paying a professional equipment operator is a good investment at this point. You can stop at this step or you can add a layer of lime rock or asphalt millings. 
Spreading rock can be done by tractor but a skid steer will provide a better result as seen in the images. The tracks pack the rock while spreading and there is less bucket movement during spreading.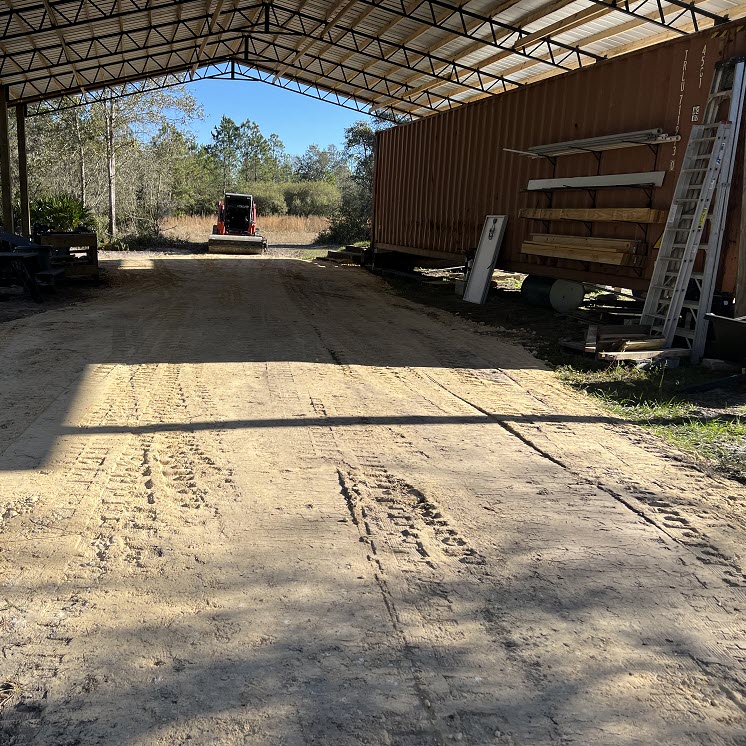 The final step in pole barn site preparation is a concrete pad. This is an expensive option but it provides a level work surface with less dirt and maintenance. This can be done over a packed rock base to reduce cracking and to provide elevation if needed. When adding concrete consider the loads and steel needed to reduce cracking.  A slab can be reinforced with a wire mesh or fiberglass fibers mixed in. Generally, a 4″ slab with high strength concrete will be sufficient. Taper the edges and build a dirt ramp onto the concrete where equipment will drive to reduce cracking in the slab. 
The pole barn shown in this blog is a 40'x60′. The shipping container is 9'x40′. A single dump truck with 15 yards of lime rock covered about 2/3's of the ground to the right of the shipping container. Two loads, or 30 yards, would be ideal for a nice pad to the right of the shipping container. This should give you some perspective on how much base layer material you will need.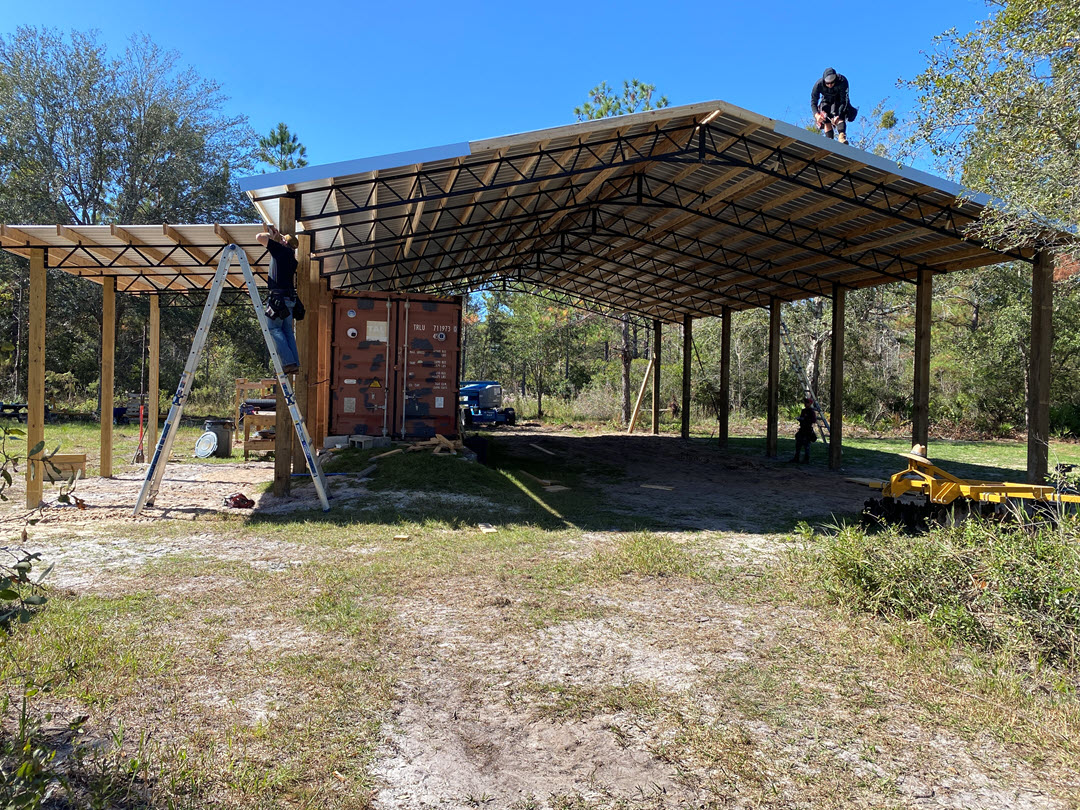 If you need a pole barn site prepared, bush hogging or land clearing in any of the following areas, call or text 813.699.9062. 
Ocala, Williston, Bronson, Chiefland, Otter Creek, Cedar Key, Crystal River, Morriston, Archer, Raleigh or Dunnellon