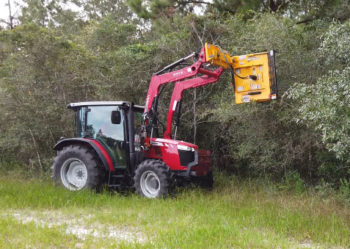 Click to call or text: 813-699-9062
Vertical Bush Hogging for Road and Trail Maintenance
As a land owner you know how quickly vegetation grows in areas like Ocala, Chiefland, Cedar Key, Willison and Bronson Florida during the wet season. Maintaining fields, hunt camps and dirt roads is a never ending chore. Instead of enjoying your farm and hunting, you are trimming trees, fields and brush.
The good news is that BHS has invested in technology for vertical bush hogging. We can trim trees and brush to keep your roads open and fields cut back. We can cut brush up to 3″ thick and about 10′ high. With the unique TB Max2 from Trailblazer Attachments, we can save you time and effort. 
Heavy Duty Brush Cutter
Our second piece of specialty equipment is our Baumalight CP572 brush hog. It is can cut up to 4″ vegetation but we have accidently cut larger. This extreme cutter enables us to do what most bush hog companies cannot. The cutting blades extend past the edge of the rear deck so trees are pushed back and then cut off within a few inches of the ground. 
With a brush hog on the front and rear, we can cut coming and going. We can cut high and low, brush and trees. We can do more in one project than others can do in several. When it comes to road maintenance and trail management, we have you covered.